Vist Site
Kraft Macaroni - Interactive floor
Working with the team at Next Now Interactive I helped develop the Kraft Macaroni Interactive Floor experience. The project was deployed in Supermarkets across the US where users could interact with the Kraft brand. The experience was developed in Unity 3d using C# and the Kinect. My primary contribution to this project was setting up openCV, a computer vision library, to track when people and objects were in view. I also was in charge of the hardware and setting up the experience on location.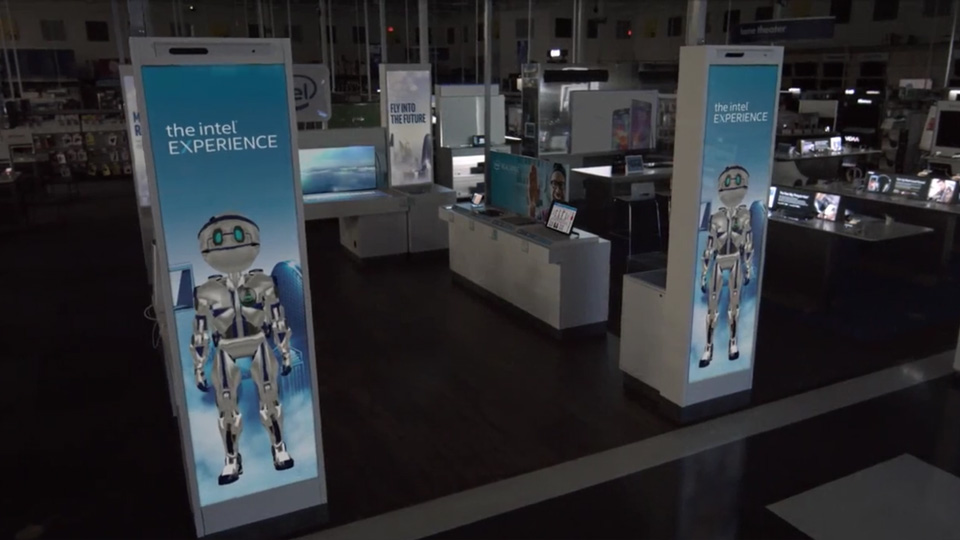 Video
Intel Best Buy
We teamed up with Intel and Best Buy to create an engaging experience in Best Buy stores across the US. I was in charge of developing the content for the two 9 foot tall totems that welcomed the users into the experience. On the totem there was an intel robot that the user could control by moving thier body around, as well as trigger animations by discovering certain poses. The experience was built with the Xbox Kinect and Unity 3d.
Odyssey
Odyssey is an interactive installation focused on exploration and discovery. Odyssey consists of several explorable environments created in Unity and projected in 360° around the user with ambient surround sound. Odyssey leverages the power of motion controls with Kinect to allow for free motion.
Visit Site
The Trend report
The Trend report is a template I built for wordpress that allows easy custimization of the content on the page. The project was built on wordpress taking advantage of the Advanced custom fileds backend plugin.